Request Forms
PHHI Extension welcomes the opportunity to engage with teachers, county agents and the community. We have identified several opportunities where we can share our STEM education resources by co-teaching, providing professional development workshops or sharing equipment. Complete the forms linked below to make your request. Please be as specific as possible, and make request well in advance to best accommodate scheduling options.
Equipment Check-out
*Shared resources can enhance the classroom experience.
*Check the form for a list of equipment available to borrow.
*No cost, but we ask that you be considerate of others and only borrow for the time period you need the equipment.
Please complete the Equipment Request Form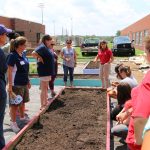 Professional Development-School Garden Focus
*PHHI staff members, Amy Bowman and Doug Vernon, are former classroom teachers, and can deliver an impactful PD.
*Review workshop descriptions prior to making your request.
*See form for topics and time frames (1/2 day and full day workshops)
Please submit the School Garden Training Request Form